Home

/

NORMATEC PULSE 2.0 LEG
NORMATEC PULSE 2.0 LEG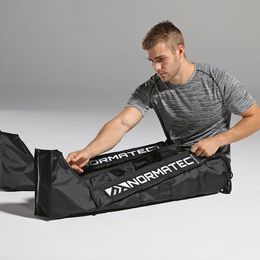 Stock Level:
This product is currently out of stock
Description
NORMATEC PULSE 2.0 LEG RECOVERY SYSTEM
NORMATEC is the ultimate recovery experience, for fresher legs faster. Patented and proven technology.

NORMATEC PULSE 2.0

The next generation NormaTec PULSE 2.0 Series is engineered to bring world-class recovery to athletes of all levels. The PULSE 2.0 Series systems are 27 per cent smaller, but pack all the performance that has made NormaTec the recovery system trusted by 97 per cent of Pro teams.

The ultimate recovery experience. The NormaTec Pulse 2.0 brings you cutting-edge connectivity and powerful results in a compact, modern system that travels well and is built to last.

NormaTec gives you fresh legs faster, helps you warm up pre-workout, and optimises your recovery post-training and competition.

The NormaTec Pulse massage is patented and proven technology that:

- increases circulation;
- reduces pain and soreness;
- rejuvenates muscles;
- accelerates athlete recovery;
.
The NormaTec Mobile App allows you to:

- customise time and pressure settings;
- activate Zone Boost;
- save and restore favourite settings;
- track and share your recovery stats; and
- upload recovery data to your other training and tracking apps.

Every NormaTec is made to the standards demanded by the world?s best athletes, teams, and coaches. It is a professional grade athlete recovery system and comes backed by a two year warranty on all system components.

All systems feature:

- designed, engineered, and assembled in the US;
- patented NormaTec Pulse Technology massage pattern;
- Zone Boost for targeted attention where you need it most;
- precise digital control;
- 30-110 mmHg pressure range;
- calibration phase for a perfect fit every session;
- overlapping zones hand-sewn with triple reinforced stitching for unparalleled durability;
- dual hose with quick connectors and integrated tubing;
- premium zippers;
- integrated, rechargeable battery and world voltage compatible power supply (100-240V);
- two year warranty and legendary NormaTec durability;
- bluetooth wireless technology enabled mobile phone app; and
- lightweight, compact, and extremely portable (3.5 lbs, 4"x4.5"x8").