Home

/

BIOPHARMA NANO GREEN STRAWBERRY 360G
BIOPHARMA NANO GREEN STRAWBERRY 360G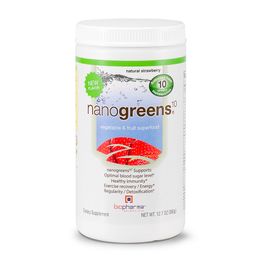 Downloads
Description
BIOPHARMA NANO GREEN STRAWBERRY 360G

?Taste the Difference, Feel the Dfference?

Phyto-nutrients, found in fruits, vegetables, herbs, spices, teas and greens, are natural plant compounds that are vital for optimal health. To consume optimal amounts of phyto-nutrients we need to eat 7 to 9 servings of fruits and vegetables, of all the colors, every day. However, that is a challenge for most. Great tasting nanogreens10 is your next best option.
Taken as directed, nanogreens10 is scientifically formulated to supplement your diet by providing the antioxidant/phyto-nutrient power of up to 10 servings of organic fruits and vegetables a day!