Home

/

ARIYA PURITY SYNERGY INULIN FOS 200G
ARIYA PURITY SYNERGY INULIN FOS 200G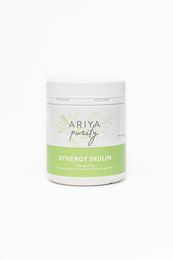 Downloads
Description
CUSTOM ARIYA PURITY SYNERGY INULIN 200G
Improve bowel and gastrointestinal health

Chicory Inulin is a proven prebiotic fibre. Prebiotics are non-digestible carbohydrates that pass intact through the small intestine and reach the large intestine undigested. ?There, they are fermented by bacteria resulting in modifications in the gut microbiota composition by selective stimulation of the growth of bifidobacteria and lactobacilli. ARIYA PURITY Synergy Inulin is a specifically designed combination of 50% shorter chain (oligofructose) and 50% longer chain chicory inulin, otherwise known as oligofructose enriched inulin.

Dosage: 8-30g per day - increase dosage slowly over time to minimise side effects.

Ingredients: 100% Chicory Inulin (composed of Chicory Inulin 92 ? 2%, Naturally Occurring Glucose + Fructose + Sucrose 8 - 2%). ?

Allergen Information: Free of gluten, crustacean, egg, fish, shellfish, lupin, peanut and tree nuts, dairy products, sesame and soy. ?Contains sulphites as a residual from processing aid or a carry-over ingredient (3mg/kg).
Other certifications: Non GMO, Halal Certified, Kosher Certified, Vegan

Storage instructions: ?Store cool (below 25 degrees celsius) and dry (under 60% relative humidity) in its original air-tight packaging. ?Use a dry spoon.