Home

/

BIO PRACTICA BASICA ACTIVE 300G
BIO PRACTICA BASICA ACTIVE 300G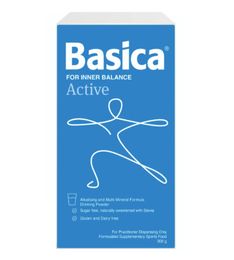 Downloads
Description
BIO PRACTICA BASICA ACTIVE 300G

Click Below for video to explain how it works
www.ariyahealth.com.au/page/37/understanding-the-acid-alkaline-equation-for-human-health

Clinically Trialled Alkalising Minerals
1. Every cell in the body requires the appropriate pH balance to function adequately
2. As we age our ability to buffer acidicity declines
3. Decreased buffering capacity and a slight increase in acidity impacts health and disease
4. Alkalising minerals help to restore electrolyte balance

Ideal Alkalising minerals:
Potassium (as citrate)
Calcium (as carbonate and lactate)
Magnesium (as citrate and carbonate)
Sodium (as citrate)
Vitamin C (as ascorbate)
Zinc (as citrate)
Copper (as citrate)
Vitamin B2
Chromium (as chloride)
Molybdenum (as sodium molybdate)
Selenium (yeast-high selenium)

? An alkaline mineral drink reduces symptoms in patients with chronic low back pain
? Supplementation of an alkaline mineral drink reduced pain symptoms of chronic low back pain by more than 50%.
? The use of analgesics could be reduced.
? Physical impairment was improved.

Alkaline minerals are an alternative without side effects for chronic low back pain caused by a disturbed acid-base homeostasis.
Observational study in 82 patients with chronic low back pain taking a specific alkaline mineral drink in addition to their usual medication for 4 weeks. Pain symptoms were quantified with the Arhus low back pain rating scale (ARS). This consists of different questionaires concerning back and leg pain, use of analgesics, disability, and physical impairment. Vormann et al. (Supplementation with alkaline minerals reduces symptoms in patients with chronic low back pain. J. Trace Elem. Med. Biol. 15, 179-183, 2001)

Summary:
Basica Activ E is a supplement rich in alkalising minerals and citrates, to support acid-base balance and maintain healthy pH levels in our body. As we age or consume an acid-forming diet, our body's ability to cope with excessive acidity may diminish. This can contribute towards chronic health issues, such as bone loss, detoxification problems and fatigue. Mineral citrates provide long lasting pH balance and do not disturb normal digestive processes.

Features
Improves Acid-alkaline balance
Improves the stress response
Improves one mineral density
Detoxification and liver health
Increased energy production
Refreshing, fruity orange taste, naturally sweetened by stevia
Dissolves rapidly and clearly

Directions:
Mix one full measuring spoon (10 g) in a glass of water, take once daily.

Warning:
Vitamin supplements should not replace a balanced diet
The recommended daily dose of this medicine contains 200mg of sodium
This product contains selenium which is toxic in high doses. A daily dose of 150 micrograms for adults of selenium from dietary supplements should not be exceeded

Active Ingredients - per 10 g serving:
Potassium (as citrate) 300 mg
Calcium (as lactate & carbonate) 400 mg
Magnesium (as citrate & carbonate) 187 mg
Sodium (as citrate & carbonate) 150 mg
Zinc (as citrate) 5 mg
Riboflavin (Vitamin B2) 1.4 mg
Chromium (as chloride) 40 mcg
Molybdenum (as sodium molybdate) 50 mcg
Selenium (as sodium selenate) 30 mcg

Citric Acid 2446mg/10g

Vegan and vegetarian friendly formula, free from gluten, wheat, yeast, egg, dairy, lactose, nut, soy, purines and copper.