Home

/

Chelsey JEAN LymFATics Kit - A pair of gloves and a 250ml FREE your FAT Cream packaged in a kit
Chelsey JEAN LymFATics Kit - A pair of gloves and a 250ml FREE your FAT Cream packaged in a kit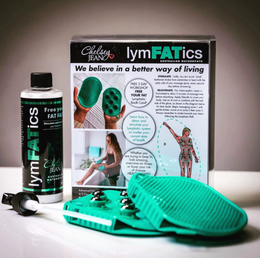 Description
Set of Magnetic Massage Gloves and a 250ml LymFATics Cream

Inspired by over 20 years of clinical results, this topical cream and glove kit will be the beginning of your new love affair with detoxing your lymphatic system. Movement is vital for health and this home care body kit will fast track results with fast and easy techniques to move stagnant lymph.

This powerful Naturopathic combination helps educate and repair your lymphatic, vein and capillary function, while providing nutrition to your cells and detoxifying your body and livening up your immune system. Use to exfoliate, skin brush, massage and nurture your body back to health.

You must stimulate to rejuvenate. Whilst being massaged into the skin, this lightweight cream contains ingredients that help to improve circulation, reduce inflammation and stimulate the lymphatic system. The cream contains my specialised blend of healing herbs and essential oils, which will assist the glide of the glove smoothly across the body.

These ingredients are powerful on their own. In my combination they are lethal? in a good way!

This will aid in toxin removal, speeds up healing, as well as improves circulation beneath the skin. You will see changes on the outside too!

The cream will also help in other ways as you are acknowledging that you have not given your body the attention and support it needs and you are going to dedicate some well deserved time to it. All the ingredients are super powerful at circulating and removing wastes but may also have other therapeutic qualities that will benefit your body.

The cream works freaking awesome with the massage glove for easy flow and soaks in perfectly.

The magnetic massage gloves have many actions and benefits, the main ones being stimulating with the spiky side and rejuvenating with the magnetic ball side.

Just using the gloves in any way will be beneficial but for best practice please follow this routine:

- Brush with small light feathering flicks towards the heart, following the instructions in the diagram, then shower.
- Use the magnetic gloves in the shower (to save time) or after applying the massage cream. The cream is formulated to allow for 3 minutes absorption time, the perfect amount of time needed to do a full body massage with your gloves.

Also use your gloves:

- in bed over top of your pjs to massage away any soreness from your day;
- before exercising to loosen the body up;
- after exercise to push through lactic acid;
- in the car when travelling; and
- for aches and pains.