Home

/

TEA FOR MENOPAUSE BY ANITA WILLIAMS
TEA FOR MENOPAUSE BY ANITA WILLIAMS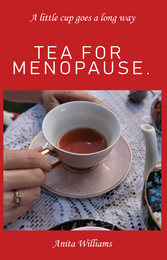 Description
Tea for Menopause by Anita Williams

Suffering from hot flushes, night sweats, mood swings, are you in pain, feeling itchy, stressed, tired, needing to pee all the time or has your sex drive taken a nose dive? Are you ready to take action and say goodbye to these symptoms and start to live the life your desire. Well this is the book for you, Tea is an affordable, easily accessed and administered option to use on those annoying menopausal symptoms.

This book identifies teas that women ise to assist 47 different symptoms of peri-menopause, menopause and post-menopause.

Discover which plants growing in your garden can be turned into tea for menopause.
Learn how to choose and create a tea blend specifically for your individual needs.