Home

/

Chelsey JEAN MAGfatics Spray 250ml
Chelsey JEAN MAGfatics Spray 250ml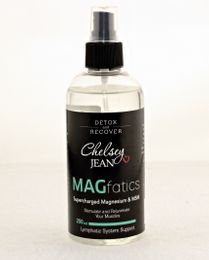 Description
Detox and Recover
SPRAY ON NATURAL PAIN RELIEF

Supercharge RECOVERY and DETOXIFY pain. Stimulate and rejuvenate your body with our UNIQUE combination of magnesium, MSM and powerful lymphatic oils and nutrients. MAGfatics spray may help increase depleted magnesium and MSM at a cellular level, while hydrating and relaxing your body. Boost lymphatic drainage of toxins, support healthy joints and skin, before and after exercise.

Directions
Use anytime of the day in conjunction with our LymFATic Massage Gloves, following Chelseys Jeans successful Magnetic Massage Sequence to utilise the lymphatic system for fast detoxification. Follow the video chelseyjean.com.