Home

/

GUT AID DAIRY RESCUE 40C - CHANGING TO DAIRY RELIEVE
GUT AID DAIRY RESCUE 40C - CHANGING TO DAIRY RELIEVE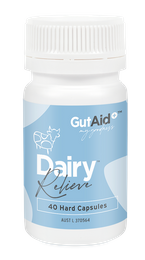 Downloads
Description
GUT AID DAIRY RESCUE 40C - CHANGING TO DAIRY RELIEVE

Dairy Rescue is our digestive enzyme formula specifically designed to fully support the breakdown of all dairy products such as milk, cheese, and ice-cream.

It's about more than just lactose

Symptoms of dairy intolerance usually begin anywhere from fifteen minutes to three hours or more after consuming dairy.
Lactose is only part of the reason people encounter problems with dairy products.
Whey Protein and Casein, also found in dairy, have been shown to cause similar problems in sensitive individuals.

Each vegetable capsule contains:
Tilactase (from Aspergillus oryzae) 2500 ALU
Protease 4.5 (from Aspergillus oryzae) 7500 HUT
Amylase (from Aspergillus oryzae) 1000 DUAA
Lipase (from Rhizopus oryzae) 100 LipU

No added Gluten, Soy, or Dairy.
Excipients: Microcrystalline Cellulose and Hypromellose (Cellulose)

Directions For Use:
Take 2 hard capsules with water, immediately before consuming dairy products.